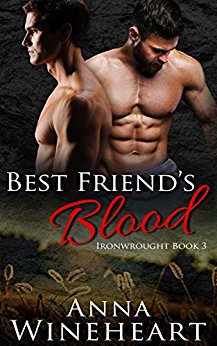 I'm a really big fan of Anna Wineheart's Ironwrought series and I totally enjoyed reading this third book.
"Best Friend's Blood" is a very sweet friends-to-lovers story with quite some angst. Mitch and Leo, the two main characters, are both very loveable and I felt immediatley connected to them and their story.
I loved the first two books of this series and was very pleased about the reconnection with the men from the former books, although it was a short one. I totally hope to read more from this group in the next book 🙂
I really like how we get a glimpse of the big main plot in every single novel and how the picture magnifies with every snippet of information the author grants us.
I once again enjoyed a trip to the world of Ironwrought and can't wait to get the next one in series!